News
Fast graphics & media processing with new DIN Rail PC
16.10.18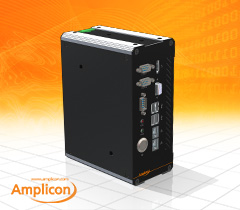 Amplicon, the UK market leading manufacturer of industrial computers, has introduced the new Impact-D 100AL – their first ever DIN Rail PC to feature Intel® ATOM™ processors.
The new system comes equipped with an extensive range of I/O ports offering maximum flexibility as well as impressive graphics capabilities.
The Impact-D 100AL is powered by the new Intel® ATOM™ Apollo Lake processors, offering exceptional performance, extensive expansion and unrivalled availability with an operational lifecycle of 15 years, all within a compact and reliable design.
Designed to outperform in the most demanding environments, the Impact-D 100AL utilises a compact fanless design, protecting against dust and particles commonly found in manufacturing facilities. In addition, the new unit offers an impressive standard operating temperature of -20°C to 70°C, with options for -40°C to 80°C, making it ideal for outdoor operations such as Transport and CCTV surveillance.
The Apollo Lake processors provide 4K immersive graphics and fast video acceleration, making the Impact-D 100AL an exceptional solution for the most demanding media output tasks including in-vehicle usage or on-board entertainment.
T